R1 Protein
If you are on a keto diet, you are very familiar with what you can and can't consume. Sometimes it can get a little tricky to get in those high numbers of good fats in. Rule 1 Proteins has crafted a supplement that you can use in hot or cold beverages so you can up your keto game. Welcome to R1 MCT Keto by Rule 1 Proteins!
This keto supplement has been formulated to take your keto diet to a whole new level. R1 MCT Keto is made with 100% coconut oil and keto-friendly acacia gum. With no added flavours, colours, or sweeteners, you can add this product to any hot or cold beverage that you would like.
This medium-chain triglyceride oil powder supplement has no stimulants, gluten, or dairy so you can maintain the correct fat, protein, and carb ratio necessary in a keto diet. The 10g of MCT per serving is the perfect addition to your routine so you can stay on track of your keto game.
When you have R1 MCT Keto by Rule 1 Proteins, you'll:
Support a keto-friendly diet with the right amount of fat, carb, and protein ration in this supplement.
Support digestion as MCT oil is easily absorbed and digested by the body, which can help to optimise gut health for better digestion.
Support performance, the good fat that MCT oil provides the body will go straight down to the cells to be used as a source of energy.
Support body composition, when combined with a keto-friendly diet, this product will help to keep you fuller for longer, which can affect your body weight and goals.
Support the boosting of powerful fatty acids which will help to fight bacterial and yeast growth, providing you with an antimicrobial and antifungal effect.
There are many benefits of taking MCT when you are in a keto diet, and that's why Rule 1 Protein has created R1 MCT Keto. This powerful supplement will be the perfect addition to your ketogenic diet for that boost of performance when you need the most.
Each serve (1scoop) of R1 MCT Keto by Rule 1 Proteins contains:
70 calories
7g of fat and 7g is saturated fat
3g of carbohydrates and 3g is from dietary fibre
10g of MCT Oil powder from Coconut Oil Powder and Acacia Gum
No stimulants, artificial colours, or flavours
No gluten, dairy, sweeteners, or stimulants
---
Warning: This product is not a sole source of nutrition and should be consumed in conjunction with a nutritious diet and an appropriate training or exercise program. Manufactured on equipment that processes products containing milk, soy (lecithin), wheat and egg.
Share
查看完整資訊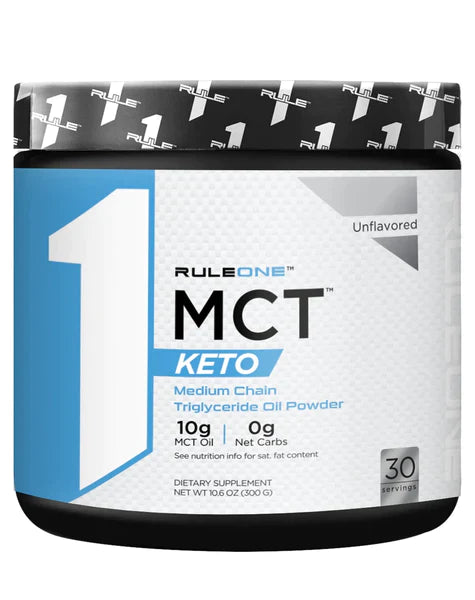 第一見有price match 既鋪頭,確保我地可以得到最平價錢仲有得儲積分♥️♥️
Total war 增肌產品好有料😂😂我試左halo, boomstick,Bravo同Warzone for recovery 同提升肌肉合成。 一個月增左 7lbs 肌肉🤯🤯/products/total-war-1-rated-preworkout
服務好店員耐心教導同埋運送速度好快!!!一定再幫襯;)
商品品質保證

本網站銷售的商品均為優質海外採購商品,本網站展示或銷售的所有商品100%為品牌方正品且本網站有權展示或銷售該商品。同時,所有商品均來自美國本土品牌廠商,銷售資格由美國品牌廠商權威管理機構授權,本網站承諾所有在售商品質量均符合原產地國家或行業質量檢測標準。由於免除了中間商,我們能夠提供十分優惠的價格,但我們從不會犧牲我們的產品品質!

服務好

服務好店員耐心教導同埋運送速度好快!!!一定再幫襯;

Price match

第一見有price match 既鋪頭,確保我地可以得到最平價錢仲有得儲積分♥️♥️